UPSTART- (Business Journals)
What's more American than coffee shops and ice cream? The freedom to have a 'gay' brand
Enlarge Image »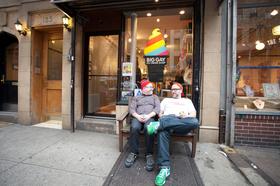 Bryan Petroff (l) and Douglas Quint (r) sit outside the East Village location of their Big Gay Ice Cream shop. Donny Tsang
by Cody Lyon , Upstart Business Journal contributor March 22, 2013  |  4:41pm EDT
Stroll down East 7th Street in Manhattan's East Village, go past St. Stanislaus Catholic church, just beyond the Butter Lane cupcake shop, you'll find Big Gay Ice Cream. And the tiny shop is often packed.Customers squeeze in against unicorn-covered walls, or wait patiently in line outside. They're all waiting for funky frozen treats like a Bea Arthur, Salty Pimp or a Mexican Affo'gay'to. Some pose for pictures in front of the storefront window featuring a rainbow-swirly ice cream cone.The novel-yet-wildly successful ice cream venture has gotten tons of press from publications as diverse as Men's Healthmagazine and the Huffington Post, the Food Network and The Rachel Ray Show. Big Gay Ice Cream was the brainchild of co-foundersDouglas Quint and Bryan Petroff who began it as a seasonal food truck in 2009. They opened their first brick-and-mortar location in 2011 and followed it up last year with a second storefront location in the West Village. Today, they're introducing a soft-serve variety to their ice cream repertoire.SEE FULL STORY AT UPSTART

*************************************************************************
How Data Is Helping Riders To Make Sense Of Their Transit System
NEW YORK — New Yorkers love to complain about their subway system: It's too slow, too expensive, too dirty. And, worst of all, it's too difficult to understand why.
That part — the why — is gradually being answered as the Metropolitan Transportation Authority embraces and promotes the public dissemination of the massive amounts of data that the agency generates on everything from train delays to its budget.
A group that works to keep the MTA accountable is set to release findings on Tuesday from a long-term study titled "The MTA in the Age of Big Data," which looks at  the state of the agency's efforts to make data accessible to the public.

Butt Of Jokes G Train Gets Some Serious Attention
by Cody Lyon, Mar 04, 2013
NEW YORK — It was once known as the venerable train to the 1939 New York World's Fair and was a critical transit artery for workers at industrial plants churning out materials for World War II.
Today the G train is the object of jokes and rants each day, both for its small number of cars and its spotty service.
"It's a wild card as far as when I'll get to work or back home," said freelance theater director and Greenpoint resident Josh Hecht, who takes the G train daily and says he leaves home an extra twenty minutes or so early to get to work appointments.
A number of factors are coming together to bring change to the long-neglected G train, which has seen ridership grow because of the popularity of neighborhoods served by the subway line, including fashionable Williamsburg, Greenpoint, Fort Green, Clinton Hill and Bedford-Stuyvesant in Brooklyn.
The Metropolitan Transportation Agency, in response to calls from state lawmakers and a new transit advocacy organization for improvements like increased frequency of trains and communication with riders on the line, has announced that it will do a so-called "full line review" of the line by June. That review could result in major upgrades to one of the city's most neglected lines.